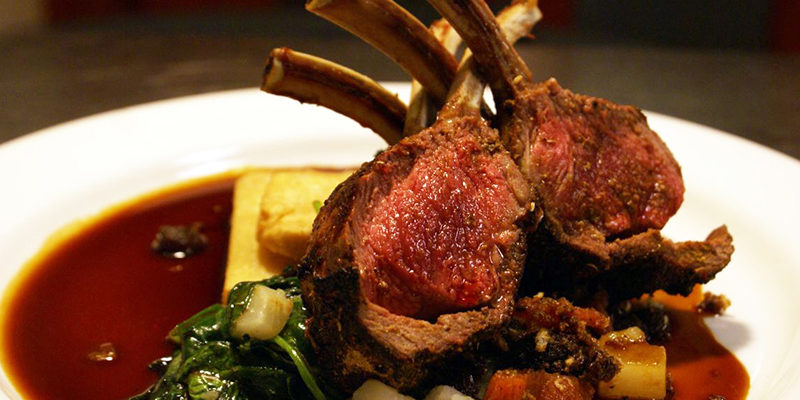 Okeechobee Farms' Ground Lamb
Text and Images by Co-Op member Kim Gates, (with help from husband Dave, & edited by us)
As we have noted previously my husband, Dave, and I love to grill, but today we take it indoors!
You see we also love pasta and sauces done on the stovetop, & we love 100% Grassfed Lamb.
Ground lamb is affordable and has so many delicious possibilities!
One way to incorporate it into a meal is to have it become part of a meat sauce that accompanies any pasta dish! Comfort food.
Dave and I start with a bit of balsamic vinegar in a nonstick skillet. We also like using whole wheat pasta,
but truthfully, any type of pasta (traditional, gluten-free, etc.) would work just as well!
Heat your skillet on a medium-low setting.
You want it just enough so that the pan's hot, but not so hot that the balsamic vinegar is bubbling.
Place the ground lamb into the skillet and carefully brown it (without overcooking it.)
Begin to heat another pot with water in it for the pasta. Depending on the type of pasta you're using and the amount of water in the pot, you may need to start this before browning the meat.
We've been using Joy's Gourmet marinara sauce
Their Puttanesca sauce is also very good & can be used in this same type of preparation.
Begin heating your sauce on a medium-low to medium setting. This way, it'll be warm when your meat is done browning.
Watch your ground lamb closely. You'll want to continually spin, turn, and flip the meat to make sure that it doesn't get overcooked. In fact, turn off the heat when there's just a bit of pink still showing.
Depending on how much liquid is in your skillet, you may want to soak some of this up before placing the lamb into the sauce.
Stir the meat into the sauce, and continue heating.
When the sauce is bubbling, you're ready to put everything together and enjoy your clean Okeechobee Farms' meat in a delicious and healthy, protein based meal.